The Human Performance Laboratory (HPL) meets the needs of today's creative researcher and has the capacity to assist in answering tomorrow's research questions.
Founded in 1963, the HPL has a long history of basic and applied research and outreach in exercise, physiology, biomechanics, and psychology. The HPL is used for both teaching and research and is represented by full-time and adjunct faculty members with varying research backgrounds and scientific interests.
Since its inception, the HPL has been involved in a variety of research areas including:
•Biomechanics
•Motor Learning
•Environmental Physiology (e.g. Heat Stress and Ozone)
•Cardiopulmonary and Thermoregulatory Physiology
•Human Nutrition (e.g. Fluid Balance and Body Composition
•Exercise and Muscle Metabolism
•Injury Prevention
•Health Benefits of Physical Activity and Fitness
Investigators have access to facilities that allow measurement of a comprehensive list of human performance characteristics. The HPL contains equipment and facilities appropriate for studying both biomechanical and physiological aspects of human movement. The laboratory is a recognized human testing facility with easy parking and building access. Various physical activities can be performed on fields and running tracks located directly adjacent to the HPL.
Human Movement Analysis Instrumentation
The HPL contains extensive human movement analysis instrumentation including equipment for the study of:
•Blood & Muscle Chemistry & Enzymology
•Metabolism & Energetics
•Skeletal Muscle Mechanics
•Electromyography
•Movement Kinetics & Kinematics
•Body Composition & Anthropometry
•Cardiorespiratory Function during Exercise
•Control & Acquisition of Motor Skills
•Psychosocial Aspects of Human Performance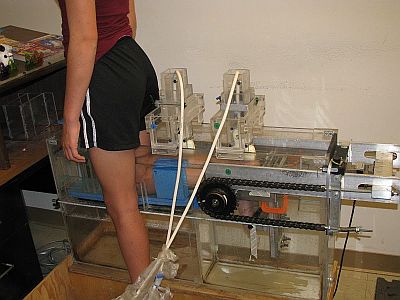 Data Analysis
Several Mac and PC computers are available for data collection, reduction, graphing, and statistical analysis for biomechanical, physiological systems and human performance modeling.
Equipment
A variety of studies can be done using equipment available in the HPL. Types of equipment available includes:
Stainless Steel Environmental Chamber
Hitachi Dual-Probe Ultrasound System
Four Kistler & AMTI Force Plates
Motion Analysis Corp. 4 Camera, 3-D Video Analysis System
Noraxon Telemetried Electromyography
Mass Spec Gas Analysis System
3 Custom Gas Analysis Systems
Biodex System
Various Treadmills & Bicycle Ergometers